In our previous articles we focused on mountain bike models in different price ranges and designed to meet various needs. This time we will introduce you to relatively new but growing category on the bike manufacturing market: fat bikes.
These powerful monsters, characterized by extremely wide over sized tires and beefy frames, were invented to negotiate endless snows of Alasca. Currently available models are much more versatile: from these capable of going through virtually everything to lighters everyday-use designs. Fat bikes are not necessarily inexpensive, but an amount of joy they bring certainly make them worth their price.
Why a fat bike?
First designed to negotiate snowy paths of North America, fat bikes have suddenly become the newest and most desired gadgets in the world of mountain bikes. Not an unnecessary one, though. This rapidly growing segment is offering very interesting upgrades every next season and the most innovative models have everything what high-end mountain bikes do and more.
Kitted with extremely light carbon frames, dual suspension and capable brakes, fat bikes quickly evolved from funny-looking toys for winter rides into powerful machines capable of going through everything and still being very competitive on mountain trails.
If you're just following a trend and want to add another bike to your stable, fairly inexpensive entry-level fat bikes will meet all your expectations. If you're looking for some serious do-it-all machine offering greater versatility than a standard mountain bike, high-end models should be considered an interesting alternative.
What makes fat bike a fat bike?
Unconventionally wide rims and tires, allowing it to easily float through every imaginable obstacle and surface.
Top 5 fat tire mountain bikes
As we have already mentioned, fat bikes are not the cheapest gadgets available on the market, but definitely the most versatile and compelling ones. We listed best five from currently available models, coming in very different prices and designed to meet various expectations.
Despite its endlessly cute name, baby blue colour scheme and relatively skinny frame, the Ice Cream Truck is a powerful machine capable of going through every imaginable obstacle. Easily floating through such surfaces like snow, rocks, mud or sand, that model has a geometry allowing it to do more than well on trail courses.
The Ice Cream Truck is made by Surly - manufacturers of the first official fat bike, what is a guarantee of its high reliability, durability and solid components. It comes with: s Shimano SLX drivetrain with an XT rear derailleur and SRAM Guide RS brakes.
Its frame, even though not the beefiest-looking one, must be pointed out as the biggest disadvantage of the Ice Cream Truck. Made of 4130 chromoly steel, adds quite a bit of extra baggage to otherwise exceptional fat bike from Surly, making it heavier than many models from the same price range (around 16kg).
Price range: under 5000$
Watch the video - Surly Ice Cream Truck.
Another model on our list proving that fat bikes weren't only designed for jolly rides in the snow. Salsa Bucksaw Carbon is an extremely light and versatile fat bike, but what makes is really exceptional is a very rare feature in that segment - a dual suspension. The Bucksaw Carbon is an upgrade of already popular aluminium frame Bucksaw model from Salsa.
According to its manufacturers, a generous addition of carbon (chain stays are still aluminium-made) makes the bike more responsive and easier to handle, while combined with dual suspension and high-volume four inch tires improves traction and boosts confidence. A carbon frame is assembled with a RockShox Bluto front suspension with 100mm of travel and RockShox Monarch RT3 with 80mm of travel in the real.
The bike is kitted with plenty more high-end components in likes of SRAM X01 drivetrain, SRAM Guide brakes and Whiskey Carbon 70mm rims. In short words, Salsa Bucksaw Carbon is an extremely versatile, comfortable and fast high-end fat bike. Just like the Ice Cream Truck it is capable of going through every obstacle and will do well in all conditions imaginable, but its reduced weight and dual suspension make it a perfect trail bike as well.
Price range: Under 6500$
Now it's time for the lightest fat bike in our review, coming from the biggest bike manufacturer in the world: the Trek Farley 9.8. As it was in case of the Ice Cream Truck, a frame of the Trek Farley 9.8 doesn't have typical chunky looks we used to, but while the steel-made former one adds some unnecessary baggage, the latter is a carbon masterpiece of lightness.
Along with its ultra light frame comes another exceptional feature of Farley 9.8 (and all lower Trek Farley models): slightly smaller 27.5x3.8inch tires, allowing it to maintain a fantastic versatility of a fat bike but in the same time making it more capable and easy to man over on trail courses.
The Trek Farley is kitted with beyond impressive high-end components, like Bontrager Wampa carbon-fiber rims, SRAM X01 drivetrain and SRAM Guide hydraulic disc brakes. This lightest fat bike in our ranking is available in absolutely alluring matte carbon smoke colour scheme and four sizes: 15.5, 17.5, 19.5 and 21.5''.
Farley 9.8 is a fantastic high-end machine absolutely worth its price, but if you're looking for a quality from Trek without spending a fortune, you should check lower Farley models made on aluminium frames.
Price range: 5000$
After going through some exciting high-end models comes the time to go back down to earth and take a looks at some more affordable fat bikes, perfect for entry-level riders. With a quickly developing segment of fat bikes, the Specialized Fatboy's frame and carbon fork with 135mm of spacing (150mm being a current standard) must be called slightly outdated, but nonetheless the bike is dependable enough to meet expectations of all beginners and offers good value for a relatively low price.
The Fatboy is kitted with SRAM X7 derailleurs, Specialized Fatboy rims (90mm-wide) and Specialized Ground Control Fat tires (26x4.6 inch). Tektro Gemini hydraulic disc brakes are considered the biggest disadvantage of that model, being not powerful enough and requiring additional tuning.
For that reason the Specialized Fatboy is recommended for entry-level riders looking for a reliable and affordable machine for bike packing trips and winter fun, rather than for a unstoppable trail and offroad monster.
If you're interested in a high-end fat bike model from Specialized, though, you should take a look at the upgraded S-Works Fatboy, a real race machine living up to all modern standards.
Price range: Under 2000$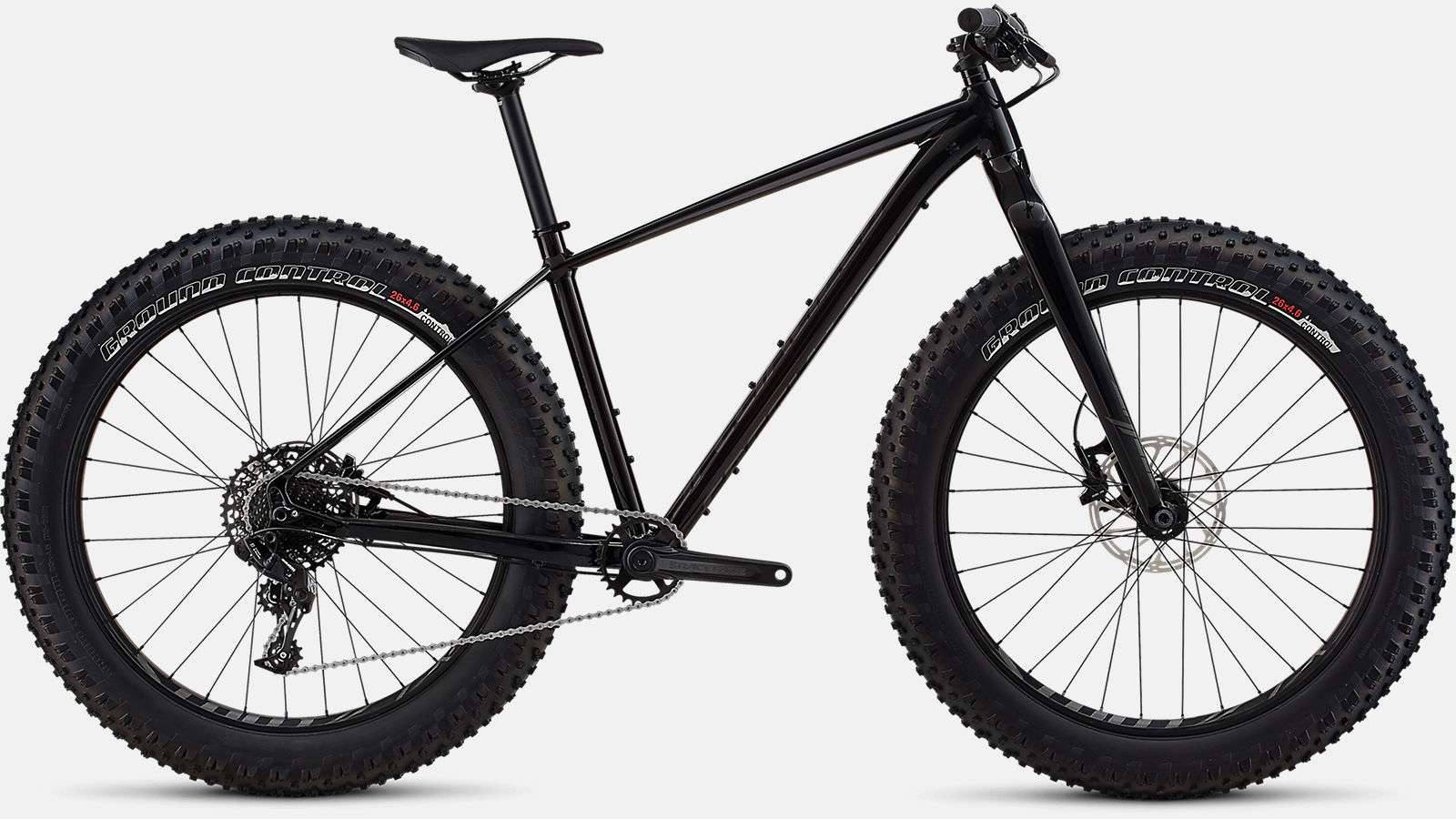 The Framed Minnesota in its 2.0 version is arguably the cheapest worth-considering fat bike from models currently available on the market. Sporting basic-level components which every reliable fat bike should have, the Minnesota is kitted with SRAM X5/ X7 derailleurs and Avid BB5s mechanical brakes.
A good-looking fully-rigid aluminium frame of this model is relatively light, but its geometry makes is a better fit for snowy winter rides than mountain trails. If you're looking for an inexpensive fat bike to add to your stable, the Framed Minnesota should meet your expectations.
If you want a more versatile model to go through every obstacle and do well on trails courses, you should check other fat bikes in our ranking.
Price range: Under 1000$
Final verdict
In the ranking above we have presented the very best currently available fat bikes in different price ranges.
This time there is no way of telling which one would suit your needs best, as all mentioned models offer a great value for their price and thus the final decision must come down to answering a question whether you need it as yet another interesting gadget in your stable, or you're looking for some serious do-it-all machine.
Regardless of your choice, we're perfectly sure that all models we have listed will live up to all expectations